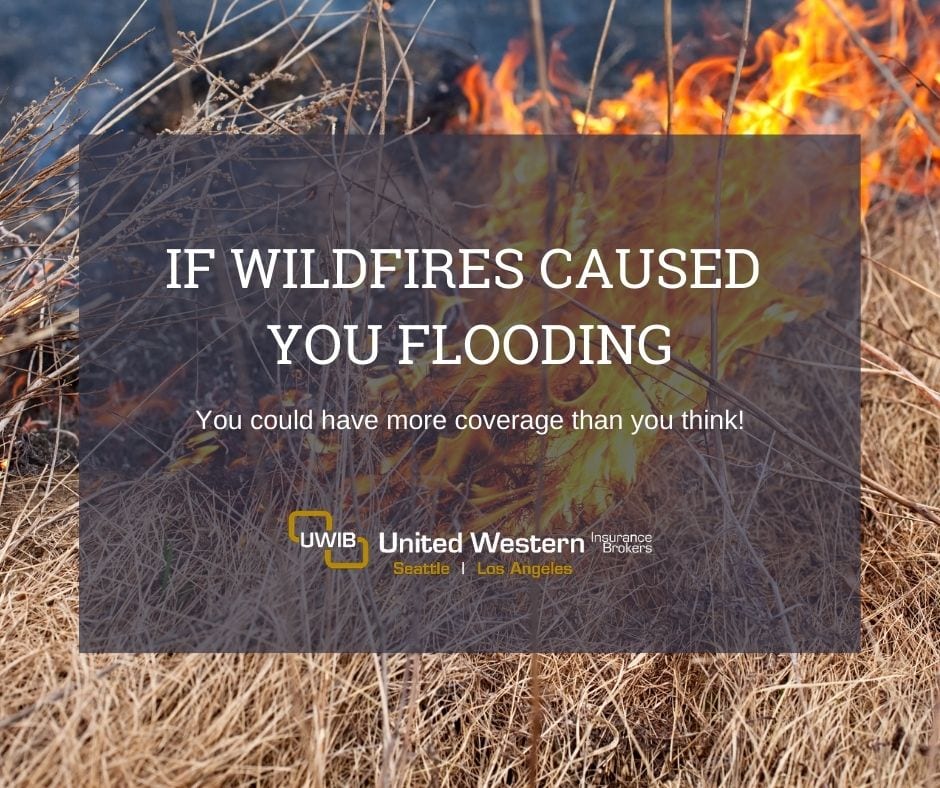 Think the flooding you sustained from wildfire runoff isn't covered? It actually might be!
We hope you are staying safe and healthy, and that your year is off to a productive start. With the rainy season upon us, UWIB and our friends at The Greenspan Company want to provide an update regarding California wildfire claims.   
 
If you sustained property damage due to a wildfire and, as a result, subsequent damage from rains, flooding, and debris flow, this could be great news.
Most property policies contain exclusions for damage caused by mudflow, debris flow, mudslide, or similar events. However, for wildfire victims who have, or had, a covered claim due to the wildfire, under Section 530 of the California Insurance Code, these exclusions are not enforceable.   
 
Insurance Code section 530 states:  An insurer is liable for a loss of which a peril insured against was the proximate cause, although a peril not contemplated by contract may have been a remote cause of the loss; but he is not liable for a loss of which the peril insured against was only a remote cause. This is also known as the "efficient proximate cause doctrine." 
What does this mean?
While your policy may not cover flood and water damage caused by heavy rains, if facts support the cause actually being wildfires (a covered loss), then your insurance will need to cover you for the damages.
 
Some carriers may deny coverage in these situations; however, these exclusions may not be enforceable and may require a reminder of the legislation in place.  
Here is a link to a letter from California Insurance Commissioner Lara. 
 
If you have a mudflow issue or other wildfire-related claims or concerns, we encourage you to reach out to your UWIB agent. They will stop what they're doing and connect you with someone at The Greenspan Co. that might be able to help. 
If you are NOT a client of UWIB, we would love the opportunity to earn your business. You can get started by emailing Alicia or Veronica, two of our Private Client specialists, or give us your info, and we'll reach out to you.